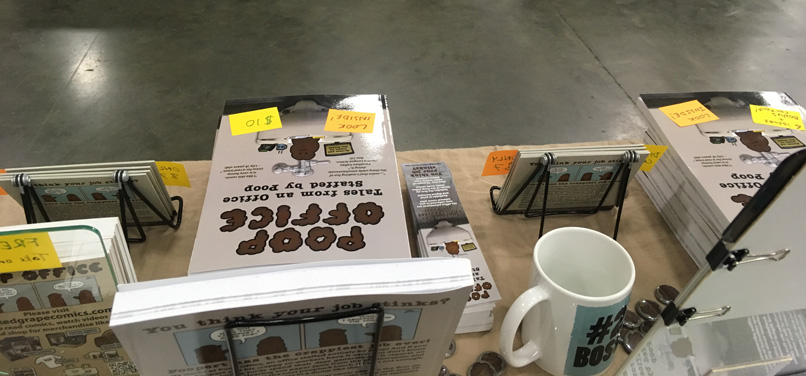 I usually don't wait several weeks before posting some sort of write-up about a convention I attended, but my new job's been really busy! Yeah, I have some time after work, but there's television that needs watchin'! I got it all figured out now, though, so sit back and pretend that it's still September and that NYCC hasn't happened yet…
Whoa, another great Baltimore Comic-Con has come and gone! As always, it was great seeing everyone and all the great comics for sale! I bought a Venom magnet, so for me it was kind of the Baltimore Magnet-Con.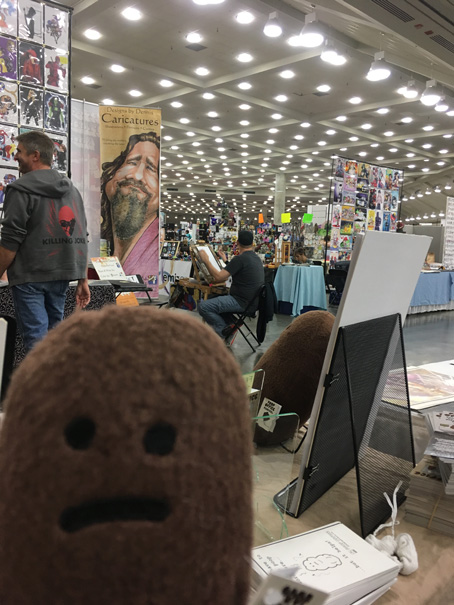 Usually a post a fun list of stuff people said at our table. This year, I think I'm going to give you a little more. I'm getting better at the social media thing, so there were plenty of photos posted on my Twitter and Instagram accounts. Definitely check those out, and "like" my Facebook page if you're into that kind of thing.
What am I doing? This is not entertaining! You know what is entertaining? A kid dressed as a toilet holding a poop!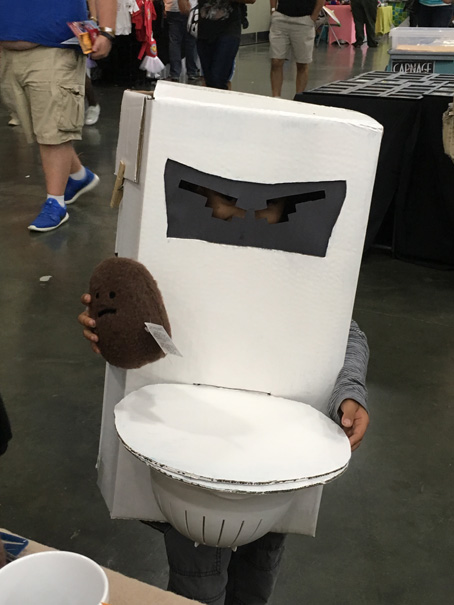 Yep, that's one of the Poop Office catnip cat toys that toilet's holding. Right after this photo was taken, he ate that poop and said it was delicious. But he's not the only one who loved that sweet, sweet taste. I got this cool video of very satisfied customer, a beautiful cat named Talula, who loved her new catnip toy.
The convention wasn't all fun and games and toilets and cats, though. I went through a bit of an identity crisis around halfway through the con. I was considering completely switching around my business model, abandoning the whole Poop Office comic book thing and focusing entirely on pop culture mash-ups, or "Poop Culture" as I'd probably call it. I created a few prototypes before abandoning the idea as lacking integrity, but you can still take a look.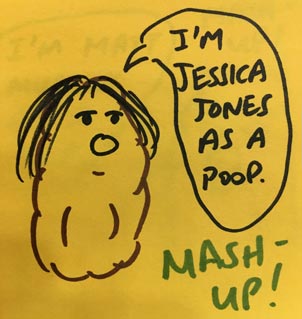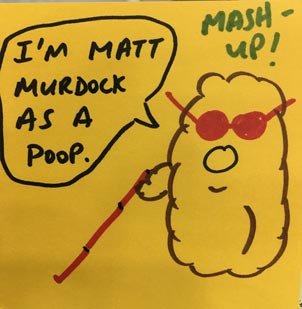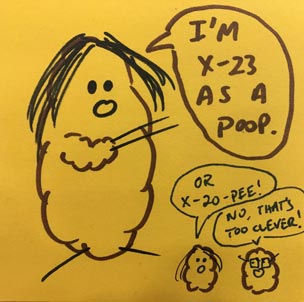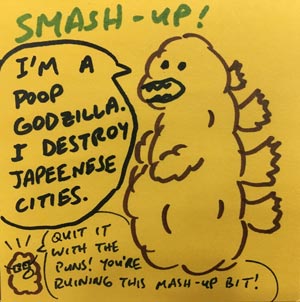 All pretty horrible, right? If you want to see another one, just send me a tweet or something and request it. I'll draw whatever you want, but I can't guarantee I won't draw it poorly!
Whatdya say we wrap this up, huh? I've got a nice big list of table comments for you. Some of them are weirder than ever! Here you go!
I sure noticed this! (Imitating herself) "Oh my god it's Poop Office!"
(Pointing at the Poop Office collection) I was just thinking I needed something to spend 45 minutes with when I take a poop in the morning.
This is hilarious… This is poop… Oh my god… It's poop…
I kind of like this, daddy. He's called Poop Office! Poop! Poop! Poop!
I'm troubled by your plushie.
I've never been more excited about two words put together.
What is going on? I love it.
If I brought any of this stuff to the office, I'd get in trouble.
Look, Daddy! Poopy letters!
I don't even want to know the details, the thought process, the guesswork… It's awesome, but I don't need to know.
That's beautiful. You're doing God's good work!
We're gonna play with our poop later.
Hell no!
(Looking at the Fumetti poster) Ew, why is it textured?
(Referring to the #2 Boss mug) I wish they had a #3 boss. I'd get that.
Poop Office: It gets everything… officey!
Younger brother (excitedly): Look here! Poops in a toilet
Older brother: *shrugs in distinterest*
Presenting a new special category of parents who refuse to let their children indulge in their poop interests:
(Mom to child) I'm not buying you poop.
Daughter: Poop!
Father: No, you're not getting office poop!
(Father to kids) I'm not buying you a book about poop.
Lot of good ones this year, but I think my favorite is the following:
(Pointing at the plush dolls) Oh my god, is that a Diglett?! (After discovering it is not) Uhh ugh, oh nevermind, it's not a Diglett.
My drawings and plush dolls have been mistaken for potatoes in this past, but this, being the first post-Pokémon Go convention we've exhibited at, is the first time it's been mistaken for a Diglett. Can't really blame them. Take away the mouth and add a big, pink nose and it's a Diglett!
That's all I got for you this time. It was a lot, though, so you can't complain. Before I go, I want to announce that Poop Office will be appearing at two conventions in 2018. There may be more coming, but these are the two I've paid for so far!
The first is the Long Beach Comic Expo in Long Beach, California on February 17 and 18. The second is Comic Con Revolution in Ontario, California on May 19 and 20. These are the first west coast convention appearances for Poop Office (i.e., poopearances), so we're pretty excited. Looking forward to seeing everyone!
But until then… Keep Poopin'!