This is my second big announcement of the week. There's one more coming tomorrow, but it's not tomorrow yet so let's just focus on today's announcement.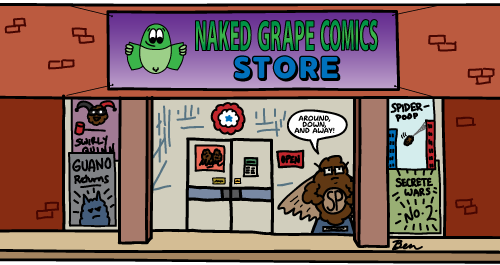 Just in time for the release of my new book Poop Office collection Tales from an Office Staffed by Poop, I completely reworked my store page! All the great Poop Office merchandise is available direct from me! Except tote bags, which are out-of-stock. I'm working on finding a new supplier after my last tote bag source dried up. I would've done this sooner, but I didn't have a job after moving across the country. Now I finally do have a job, so I just need to get my shit together and find a new vendor and order more bags! But there's other non-tote-bag stuff, including…
New T-Shirts! I have new T-shirts available in a bunch of new colors. These are online exclusives, so you won't find them at any of my convention appearances. I did my best to keep the prices as low as I could while still making sure the shirts were good quality. I think these are better than the shirts I had been selling at conventions (at really low prices), so these new ones are probably worth a few extra dollars.
It's surprisingly easy to add new T-shirts to this new online storefront, so you'll probably see some new designs pooping up in the next few months.
Anyway, I worked really hard getting this new store looking and working just right, so I hope you all like it. To check it out, either click on the Store link above or go to https://store.nakedgrapecomics.com.
What's that? You think online retailers are too convenient? You'd like to buy something from me in-person inside some sort of building made out of brick and mortar? I just might have the solution for you, but it'll have to wait until… tomorrow…