I'm still recovering from what was our most successful Baltimore Comic-Con yet! It was a great convention this year. The weather was nice. The people were nice. And I got to see Edward James Olmos' mustache from 30 feet away!
This was also the first con that we tried advertising in the bathroom. They were only up for a few hours on Friday before the convention center staff cleaned them up, so I think we probably weren't allowed to post stuff there. Oh well. Maybe next time! We got compliments about the ads, so I thought I'd post it here for anyone who missed it.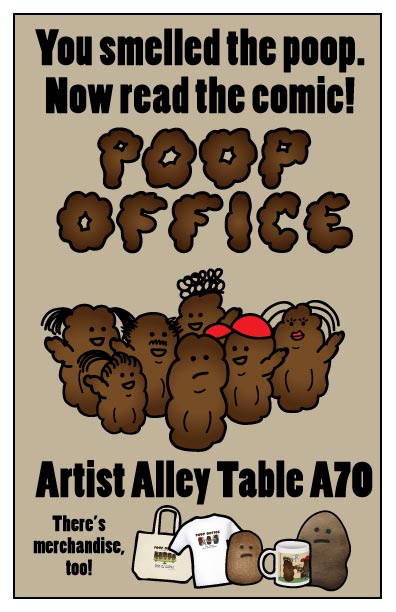 Big thanks to everyone who came by to see us. For those who couldn't make it, Poop Office #6 is now available in digital form on the store page. If you're a ComiXology fan, I'm working on getting Poop Office #6 up there, too. It'll probably be a few weeks, though.
Anyway, let's get to the main event! Here's what people were saying around the Poop Office table this year:
I think [our cat] would like that [catnip toy]. She needs it!
I'm looking for a special poop.
(Pointing at the cover to issue #4) Is that piss in the water jug? Oh god. I'm done. (leaves)
I want to laugh but I don't want to be insulting.
(Re: poop plush) Child: I want one of these. Parent: No!
I gather you guys love bowel movements.
Poop, there it is!
This is a very attractive nuisance for children.
Oh look, it's the poops again!
Power Girl: I have to say that was really slick putting ads in the stalls. Frickin' brilliant.
You guys keep doing what you're doing.
Alright, give me the shit!
I'm sure you get this a lot — they look like burnt chicken nuggets.
(While taking someone's photo in front of the plushes) Say 'Poop'!
I'm gonna get in trouble for this, but… (buys something)
I don't like this. I don't like it because it's poop.
Look! Little shits!
(Girl had whole stuffed poop collection at home) I got poop! This is my third poop doll!
(Regarding his wife) Of all the comics I bought, this one upset her the most.
Really? Shit art?
I look forward to reading these, God help me.
(After handing him the free sketch I did for him) Last year you were the best buy of the convention. This year you're the best sketch.
The winner in the "I can't remember if it was the mom or the child who liked/disliked Poop Office" category is:
Mom: But it's poop! Child: Mom, you just don't understand.