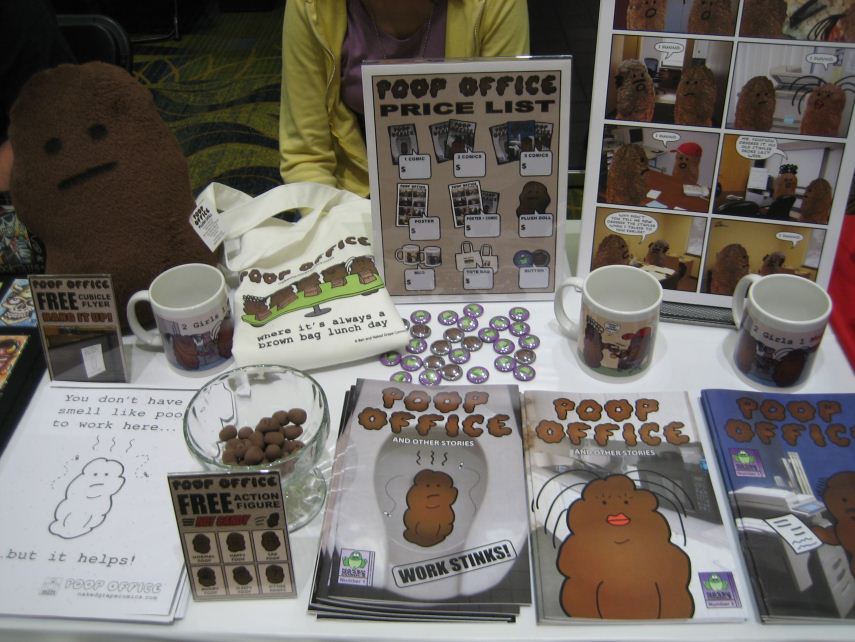 It took me a week to recover from this year's Baltimore Comic-Con and Small Press Expo. They were a ton of fun, and I want to thank everyone I got to meet over those two weekends!
Here are my favorite lines overheard at my table:
Daddy, I need to go potty!
It's really come down to this, eh?
I am so confused!
Did you make this? You are a beautiful person!
I love poop!
Ah, this is messed up.
It's like my daily life.
If someone's gonna invest time into drawing a poop comic…
I love the originality.
Eww! That's gross!
That is, like, the best idea ever!
Poop is a bad word.
This looks very silly.
That is the most adorable hunk of shit I've ever seen.
Delightfully low brow. My favorite!
I don't know if I have the stomach for it. I hadn't thought my sensibilities were that delicate.
[To his friend] Oh, is that the thing you were talking about?
I don't think my wife's gonna let me put that [poop plush doll] on the couch.
You guys are so inappropriate.
Have a poopy day. For you that's a good thing.
I want to be mature and say I don't like this.
You young people have a sick sense of humor.
This is my favorite thing here.