I used to call these after-con reports "Aftermaths", but I figured I need a less mature title for them. So now I'm going with "Debriefed." Y'know, like briefs, the underwear. Underwear -> butts -> poop. It works!
I also usually get these things out earlier, but it was a tough week at work and I didn't have any time until now. Well, I guess I had time yesterday on Saturday, but I was lazy.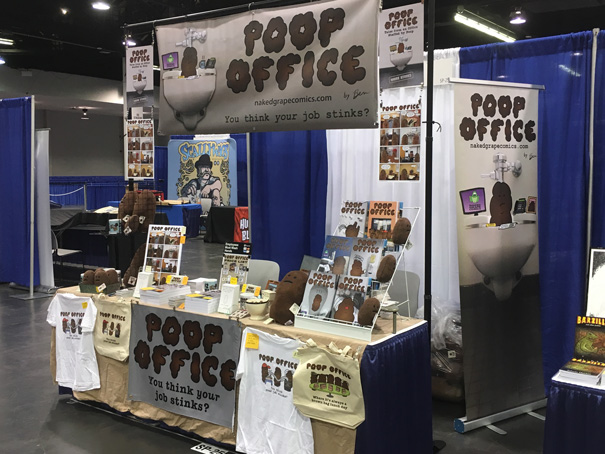 As I was saying, last weekend was WonderCon, and it was the first time Poop Office had ever appeared at WonderCon. It was a ton of fun meeting everyone, and we plan on being there again in 2020. The new magnetic picture frames premiered at the show and got some laughs. The #2 Boss mugs were a surprise hit, and we sold so many that I have to buy some more before our next show! We had some great table neighbors including Puna Press and Cartoons for Goons. I also got to chat with Charlie Stickney, writer of White Ash, about his upcoming plans for this very successful independent comic book series. He's got a Kickstarter ending in a few days, and I recommend everyone check it out here.
I know why you're all here, though. You want to know what WonderCon attendees had to say about Poop Office! Well, wait no more. This being our first big Southern California show, we got a lot of comments. Let's get to it!
You are doing God's work.

I've never seen poop drawn like this before. It's like meatloaf.

My poops do not look like that. I wish. I wish!

(Child to his brother, who is considering buying two poop toys)

You don't need two poops. You can produce your own.

Did you really make these butts?

Never thought I'd see so many turds at one time!

That's some interesting shit you've got here, pardon my French.

Okay, I'll bite. It's too weird not to!

Aww

(makes a cute facial expression)

I want the poop baby.

(Points at the toilet mug full of poop action figures)

I think your toilet's backed up.

(Mother to child, who seems disturbed by all the poop products)

This makes you uncomfortable? Why?

These are too cute, but they're poop, y'know?

This is so crass

(said as a compliment about the Brown Coffee mug)

Child in a stroller:

Don't let me touch that, Mom!

Oh I get it. Instead of "#1 Boss" it's "#2 Boss" because it's poop!
(Looking at the pee-pee cooler on the cover of Poop Office #4) Daddy, guess what they drink! They drink urine!
(Talking to friend while pointing at poop plush doll)

Hey, I found your twin!

Did you say, "compooter"? That's genius.

(Touching a poop plush doll)

That texture is so horrifying. It's like a train wreck. I can't look away.

At last something that appeals to my needs.

Thank you for the fine number two work.

This booth is totally the shit.

(Child pointing at a poop plush doll)

There's a ginormous poopoo.

See, there's a market for anything.

Our table-neighbor, creator of Cartoons for Goons:

Everybody likes poop, especially toilets. 

Our table-neighbors from Puna Press as we were packing after the show ended on Sunday:

You better clean this shit up! 

Poop is so in right now. I've been seeing it everywhere.
The "Nailed It" award goes to…
The award for "Nicest compliment" goes to…
I like your poo-poo head!
And probably my favorite comment, or question in this case, from the show goes to…
So this is supposed to emulate actual fecal elements?
That's it! Pretty fun, huh? If you can't make it to one of our convention appearances, you should know that I try to post photos and jokes on my Instagram and Twitter accounts during the show. I need to try to post more on the Facebook page, too, but for now I'm at least going to try and post a photo gallery like this one after the convention is over.
As for our next convention, I think it's going to be the Los Angeles Comic Con in October. I haven't attended this one yet, but I keep hearing good things about it. More news when I have it!
Until next time… Keep Poopin'!